9 gennaio 2007: l'iPhone
Questa è la data in cui Steve Jobs ha presentato il primo iPhone.
Le parole profetiche di Jobs furono: "today Apple in going to reinvent the phone". Niente di più vero.
Ora non ci pensiamo più, ma prima dell'iPhone tutti gli smartphone avevano i tasti fisici!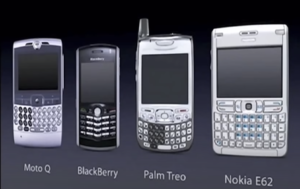 IPhone è stato il primo telefono a "tutto display", anche se ora ci pare una cosa ovvia non lo era affatto prima del 9 gennaio del 2007.
Trova le differenze! 😎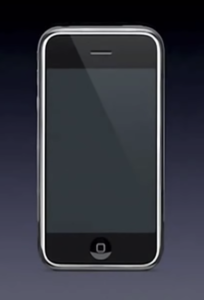 Con gli altri smartphone non si poteva ascoltare la musica, invece iPhone aveva un iPod inside!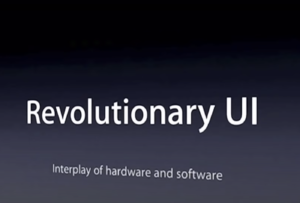 E poi parliamo anche dell'user interface rivoluzionaria nonchè pensata da chi aveva pensato anche l'hardware, quindi perfettamente integrata.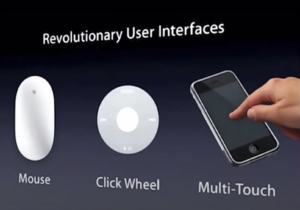 E anche le foto… sono diventate protagoniste! Chissà che cosa sarebbe Instagram se Steve non avesse pensato l'iPhone!
Oggi, questa logica, è replicata su qualsiasi tipo di telefono – sono passati 16 anni e ad oggi varie fonti affermano che ne sono stati venduti più di due miliardi di unità – ed è diventata la normalità che ha completamente cancellato dalle nostre menti cosa fosse un telefono "prima"!
9 gennaio 2007: l'iPhone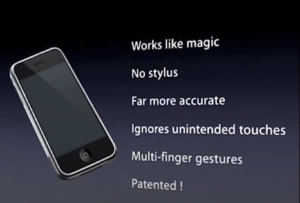 (it) works like magic
così finiva il keynote di Steve Job ed io ancora oggi lo penso.
Iphone funziona come per magia  e, come per magia, ci ha cambiato la vita, in bene.
Inoltre, dal momento che una mela al giorno leva il medico di torno, ci ha anche curato! 😎
Grazie iPhone, grazie Steve! ❤️
Tutti le immagini sono ricavate da frame della presentazione del 9 gennaio 2007, se la vuoi vedere per intero clicca qui.